Main content starts here, tab to start navigating
Franchising
Or learn more below!
Want to Own a Mici?
Here's What You Knead to Know

Hello! We're so pleased you're interested in owning a Mici Restaurant. Below you'll find helpful information about how we're changing the pizza industry and what it takes to become a Mici franchisee. Above all, we're looking for those who share our passion for leading great teams and making guests happy through delicious food and great service! If you think you have what it takes to own the only brand that is truly revolutionizing the $47B pizza business, please submit the application at the bottom of the page. We look forward to discussing with you soon!
People Love Mici
Find Out Why

Throughout the years, pizza restaurants have provided one of two options: Great tasting artisan pizza that's slowwwww, or pizza that's convenient but not very appetizing.
Going to your favorite pizza joint rarely fits into your schedule - if they do happen to deliver, it takes forever and doesn't travel well. Other concepts offer fast delivery, but let's face it, the pizzas aren't very good. It provides a meal, but with much to be desired. This means you don't always get the pizza you crave.
Mici customers don't have to make this compromise. They want great food that fits into their busy lives. They're home late from work. They've got to take their kids to soccer practice. There's no time to grocery shop or cook, but they want to serve their families healthy food that's fast. So, they order Mici from the app on their phones before leaving the office or in the car at the stoplight. The food is made quickly with clean ingredients, it tastes delicious and can be delivered to their door by the time they get home.
Mici has been perfecting a solution for pizza that is both artisan and convenient since 2004. And, our track record proves that it does not go unnoticed!
An Overnight Success
Since 2004
The Miceli family wanted to make the pizza experience better, so in 2004, they started Mici Handcrafted Italian. As a family rooted in Italian food traditions, they craved great tasting pizza and pasta that could fit into the busy American lifestyle.
However, creating a concept that was convenient, yet artisan, didn't happen overnight. They took their time laying the groundwork for growth. By carefully expanding with new partners, they've been able to perfect the menu, simplify operations, provide a takeout/delivery experience that is as good as dine-in, increase margins, and build an impressive support team. They took it slow intentionally and waited until all of the pieces were in place before focusing on sizable growth.
Guess what? It worked, and we're ready! The pieces are in place, the numbers speak for themselves and soon customers throughout the U.S. will be able to experience the magic of Mici Handcrafted Italian.
The Results Speak for Themselves
Numbers Don't Lie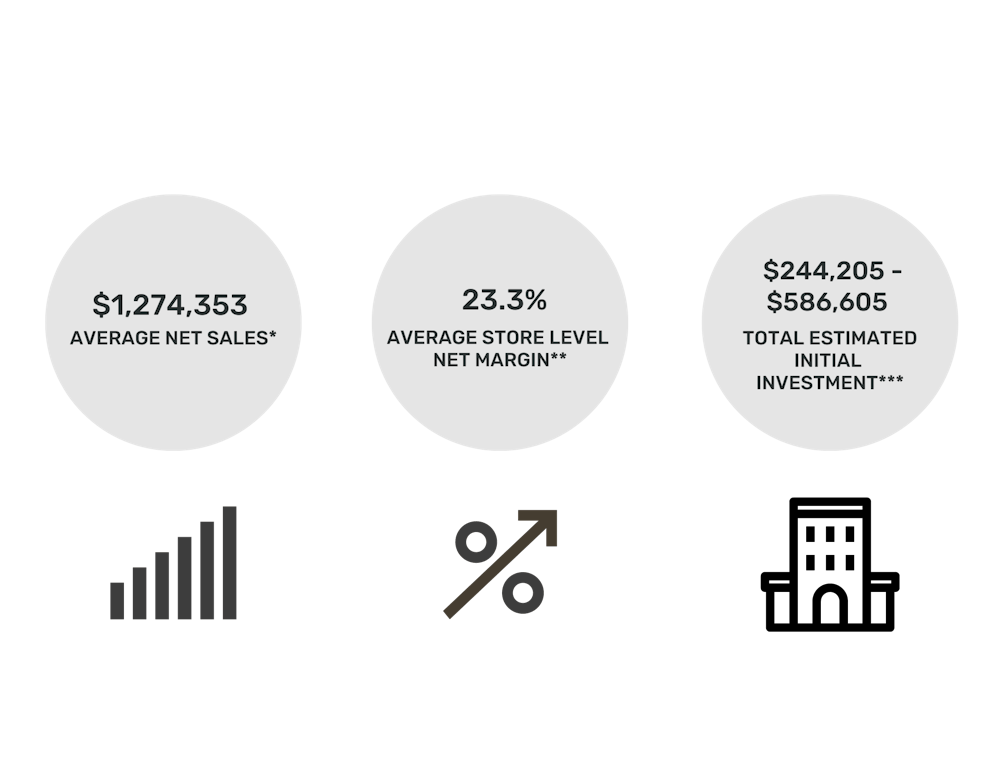 * Based on the net sales of all Mici restaurants open for the full fiscal year 2021. This information appears in item 19 of our 2022 FDD. Please refer to our FDD for complete information on financial performance. Your results may differ. There is no assurance that you will do as well.
** Based on the store-level margin of all Mici restaurants open for the full fiscal year 2021. This information appears in item 19 of our 2022 FDD. Please refer to our FDD for complete information on financial performance. Your results may differ. There is no assurance that you will do as well. Store level net margin equals net sales less cost of goods sold, labor, occupancy cost, and other operating expenses including: repairs and maintenance, smallwares, cleaning supplies, office supplies, POS fees, POS maintenance, pest control, delivery charges, credit card processing fees, bank charges, telephone and internet expenses, trash services, equipment rental, property and liability insurance, security expenses, license and state business taxes, cost of utilities, and other miscellaneous expense. Average store level net margin does not include franchise related expenses including: royalties, advertising, and technology fees.
***Total estimated initial investment includes estimated build out costs, inventory, grand opening marketing, initial franchise fee, deposits, and other costs needed to open a Mici restaurant. This information appears in item 7 of our 2022 FDD. Your results may differ.

125+ Years of Restaurant Experience on Your Side



Meet Your Support Team
We Took a Hard Thing and Made It Easy
Reap The Benefits
Patrick Desmond | General Manager
We've been in the pizza business for 25 years. The allure of the industry is there - it's huge and the margins are exceptional. But, we know how hard it can be to run an artisan pizzeria. So we innovated and patented our process which allows us train people to make great pizza with no experience. In this labor market, that's a game changer.
We Won't Leave You Hanging
A Franchise Is Only As Good As Its Support
Matt Stanton | Chief Growth Officer
At Mici we believe that our franchisee's success is our success and we've built the systems you need to achieve it.
Raquel Hampton | Training Manager
We don't teach dedication. We don't teach leadership. We don't teach resolve.
But, if you can bring those things to the table, we make darn sure that you know everything else that is needed to run a great Mici.
We'll train you and your management team at one of our certified training stores. And we'll send a crew of experienced trainers to your opening to teach your crew how to make the best pizza and pasta in your city.
Joe Melton | Chief Operating Officer
We have diligently focused on removing complexity from the kitchen. Any employee with any level of experience and only a few days of training can make any item on the menu...perfectly.
This allows your manager to focus on smooth operations, great customer service, and sales growth.
Kim Miceli | Co-Founder | Brand Strategy
The pizza industry is broken - one coupon after another is used to drive sales in the business. But, that's expensive and less effective each year.
At Mici we're experts at finding customers and getting them excited about our brand via digital media. People don't watch TV and check mail like they used to – they're on their phones and computers to get their content, and this is where they'll find Mici.
Once a guest walks through our door, their loyalty will be equally driven by good food, a seamless ordering experience and a rich rewards membership, for which we also excel.
We believe it takes only one visit to have a customer for life.
Michael Miceli | Vice President Operations
Mici's magic starts with the food. We discuss the evolution of operations at Mici and how we stay true to the Miceli family old-world recipes while enabling the brand to scale in new markets and with franchisees.
It's no surprise that Mici has won Denver's Best Pizza and Denver's Best Italian 10 years in a row.
Mike Knab | Mici Employee #1
Mici is all about family, culture, and teams. In today's labor environment it is critical to have a brand that retains employees. In fact, few brands can claim to have such long-tenured employees as Mici.
Mike discusses how Mici's ease of operations, caring culture, and consistency between locations has led him to an astounding 18 year (and counting) career with Mici.
It's an Easy Decision
Capiche?